Fenix HT18 Hunting Flashlight Kit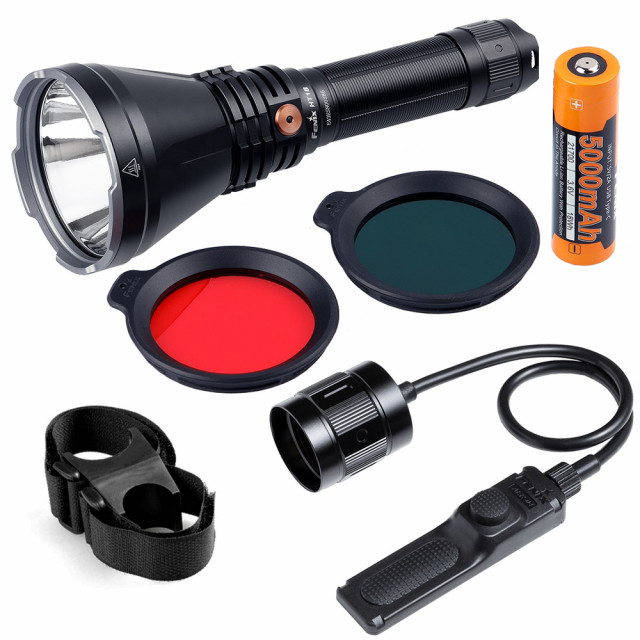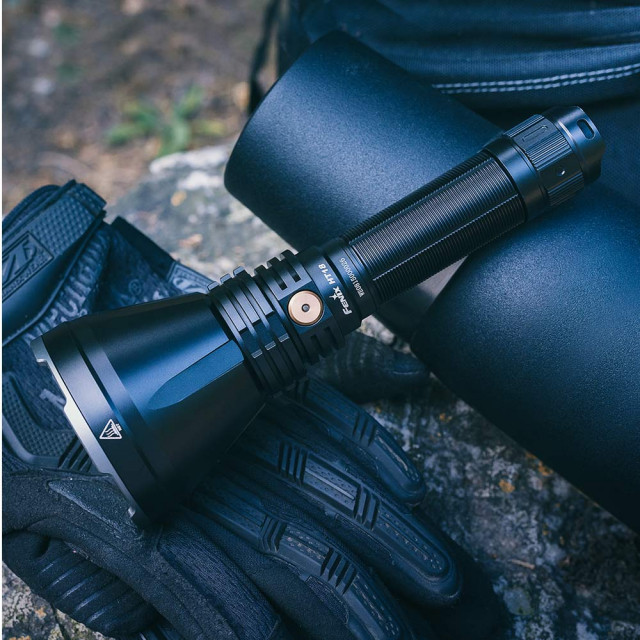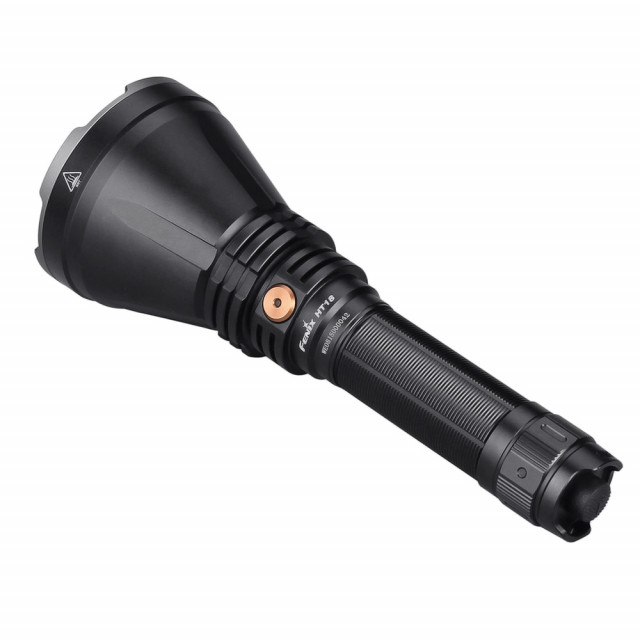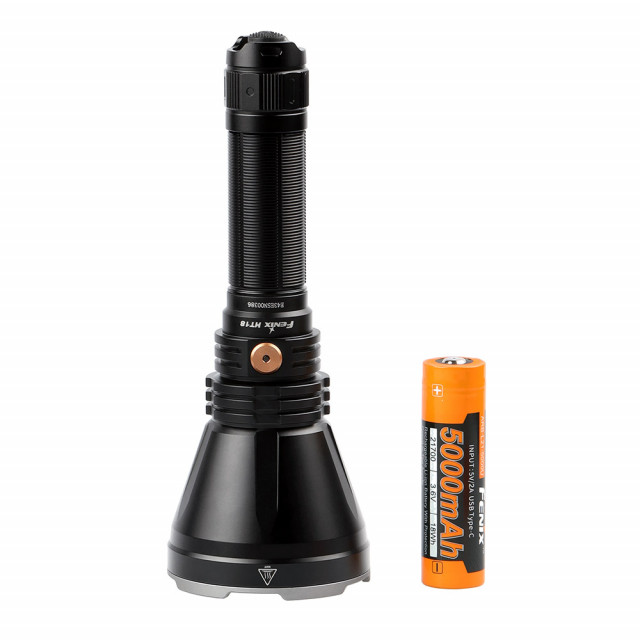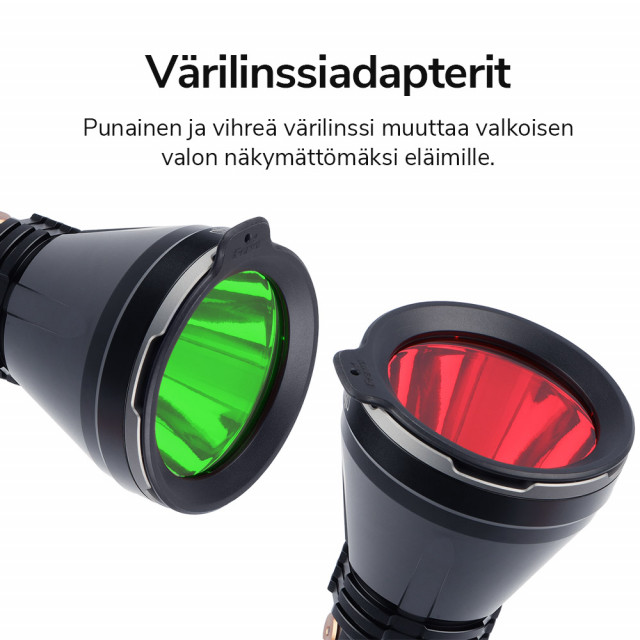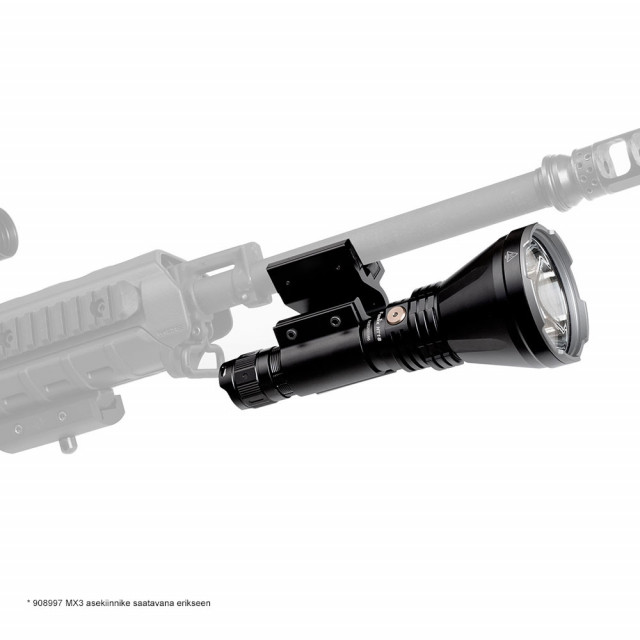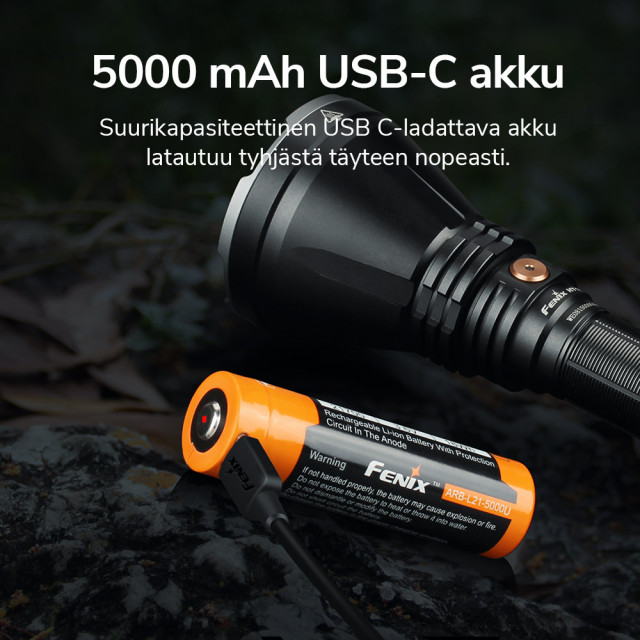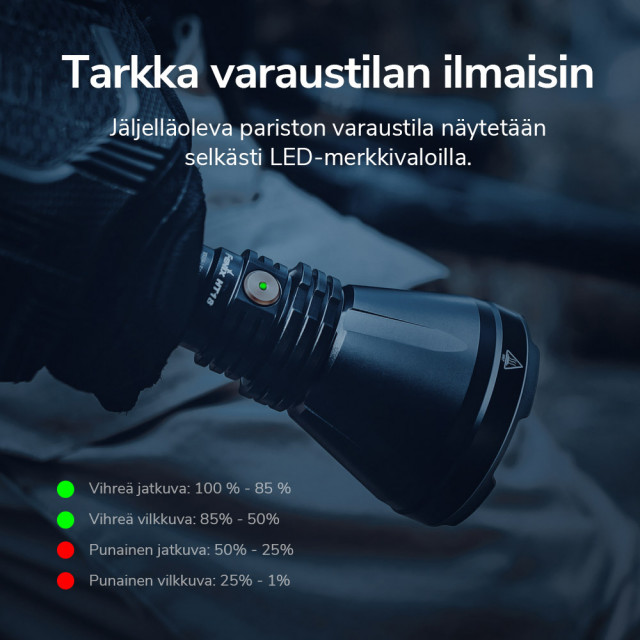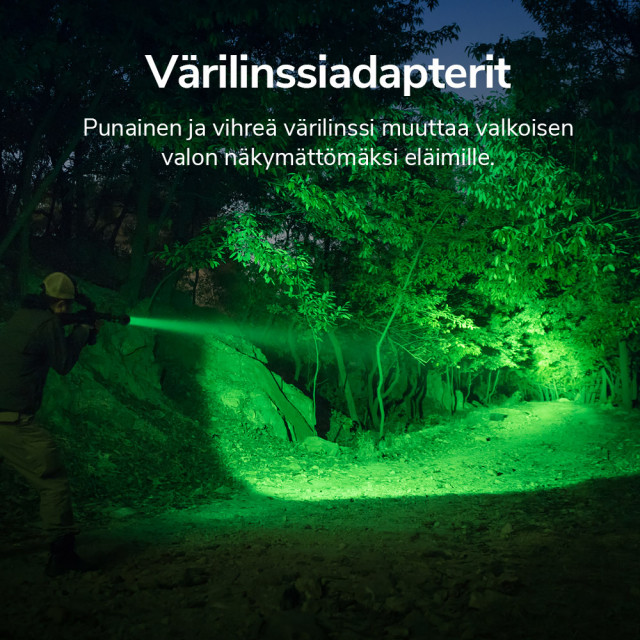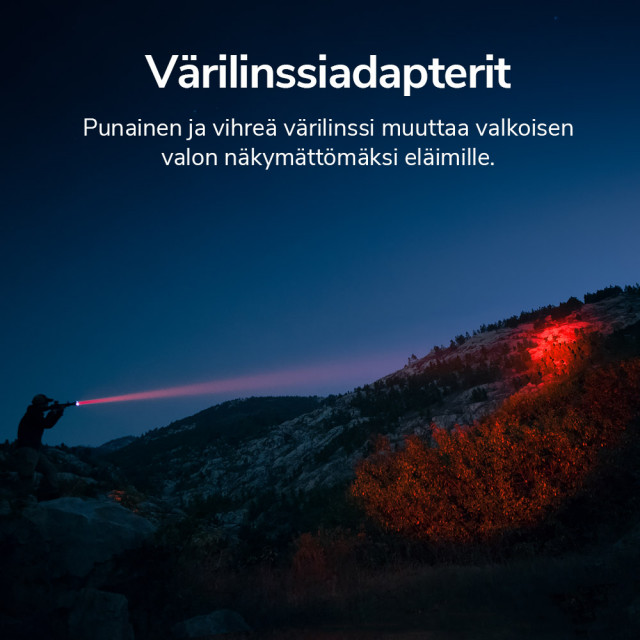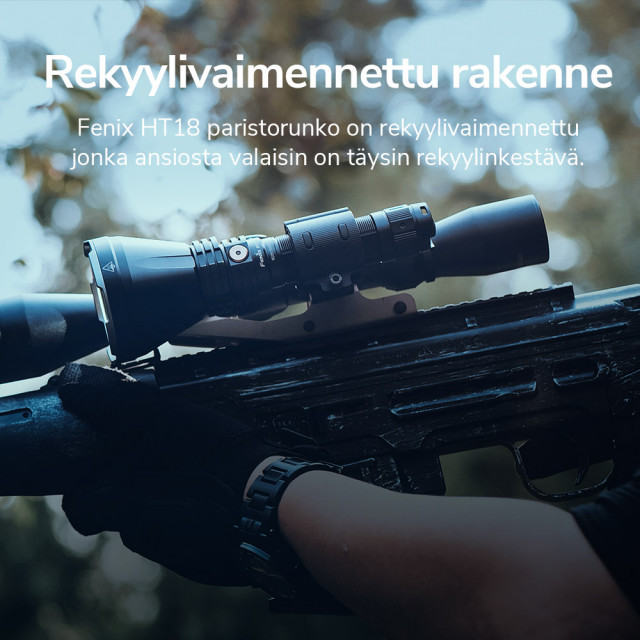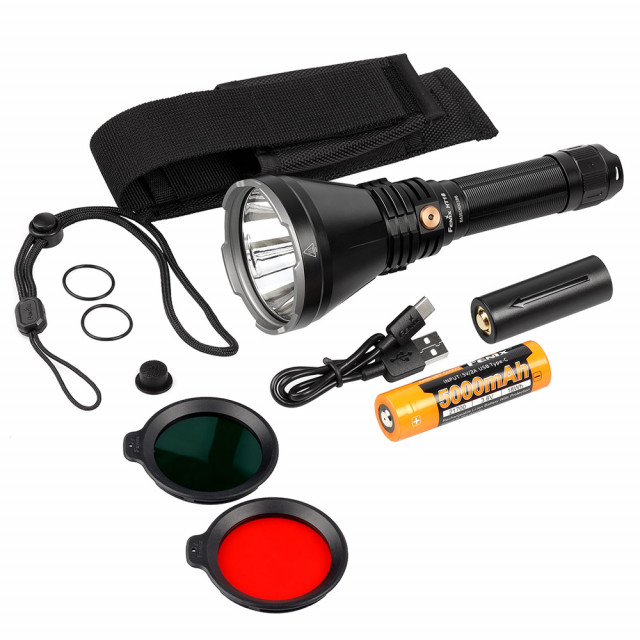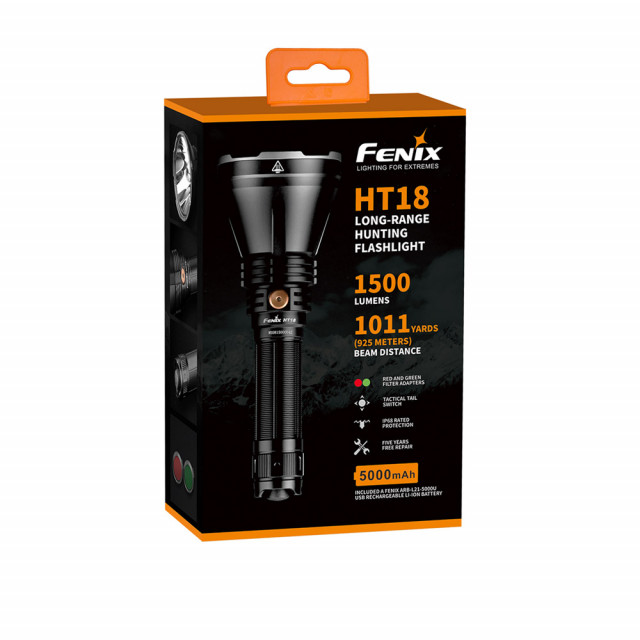 Fenix HT18 Hunting Flashlight Kit
Stock:

In stock

SKU:

910984

Fenix TK-sarja

We bundled everything you need for hunting
This limited time available HT18 bundle has everything you need for hunting. This HT18 bundle includes best selling HT18 long-range hunting flashlight, red and green color filters, high capacity 5000 mAh USB type C rechargeable battery, Fenix AER-04 remote pressure switch and a rubber mount.

Astonishing Long-Range Beam
The Fenix HT18 hunting flashlight is a hand-held long distance hunting flashlight that can throw a maximum 1500 lumens 925 meters! Extremely small, this flashlight is only 18,4 cm long and weighs only 220 grams (excluding battery), nearly half the size of other flashlights that deliver that type of power. Hunters will appreciate the included red or green filters allowing you to filter the light, preserving your night vision and reducing the chance of spooking prey.
True Performer for Hunting
The Fenix HT18 will be your new go-to hunting flashlight, and you can't beat the long distance capabilities. Extend runtime when using the included 21700 Li-ion battery and know its status with the battery level indicator. IP68 rated waterproof and dustproof rounds out the features of this spotlight built for those needing a small, tough flashlight with an incredibly far beam distance.
When you purchase the HT18 Hunting flashlight, you will also receive a 21700 battery with a USB Type-C Charging port and USB Type-C charging cable so you can easily power on the torch right out of the box.
Dual Filter Adapters for Night Searching
Red light carries up to 325 meters distance and it's suitable for maintaining your night vision in searching etc. Green light carries up to 90 meters beam distance and it's more visible and won't alarm animals.
Product Details
Digitally regulated circuit - maintains constant brightness
Enlarged reflector ensures the beam distances and beam patterns uncompromised up to 925 meters

Red and green color filter adapters (max distance with color filters: red 325 m, green 90 m)
Instant power activation with momentary tactical tail switch

Simple output selection with side switch
Boot-up battery level indication and low-voltage warning

Reverse polarity protection, to protect from improper battery installation
A 18650 rechargeable Li-ion battery can also be used together with the ALF-18 battery holder
Toughened ultra-clear glass lens with anti-reflective coating
Made of durable high-strength and oxidation-resistance aluminum
Premium type HAIII hard-anodized anti-abrasive finish

Package includes: HT18 flashlight x 1 pcs, Fenix ARB-L21-5000U USB rechargeable 21700 Li-ion battery x 1 pcs, USB Type-C charging cable x 1 pcs, holster (length adjustable) x 1, ALF-18 battery holder x 1 pcs, red light filter adapter x 1 pcs, green light filter adapter x 1 pcs, spare rubber switch boot x 1 pcs, lanyard x 1 pcs, spare O-ring x 2 pcs, user manual
With Fenix's commitment to quality, the HT18 is IP68 rated dust and waterproof resistant. Tested and rated to ANSI/FL1 standards. The HT18 portable long distance hunting flashlight is backed by Fenix's 5 year warranty against defects in materials and workmanship.
Technical details
Technical details (lamput)
Output (max)
1500 lumens (21700 Li-ion), 1100 lumens (18650 Li-ion)
Runtime (max)
61 h (21700 Li-ion), 53 h (18650 Li-ion)
Beam distance (max)
925 m (21700 Li-ion), 805 m (18650 Li-ion)
Light power (max)
214187 candela (21700 Li-ion) 162682 candela (18650 Li-ion)
Impact resistance
1 meter
Water Resistance
IP68 (dust- and waterproof)
Modes
5 pcs
Output Turbo
1500 lm / 1 h 40 min (21700 Li-ion) 1100 lm / 1 h 40 min (18650 Li-ion)
Output High
500 lm / 4 h 15 min (21700 Li-ion) 500 lm / 2 h 50 min (18650 Li-ion)
Output Med
150 lm / 20 h 15 min (21700 Li-ion) 150 lm / 14 h 10 min (18650 Li-ion)
Output Low
30 lm / 61 h (21700 Li-ion) 30 lm / 53 h (18650 Li-ion)
Strobe
1500 lm (21700 Li-ion) 1100 lm (18650 Li-ion)
LED-type
SST SFT40 LED
Size
184 x 68 x 26 mm
Weight
220 g (excluding battery)
Batteries
1x21700, 1x18650
Charging type
USB type-C
Certificates
ANSI/NEMA FL-1, ROHS, CE
Warranty
5-years
Includes
HT18 flashlight, Fenix AER-04 remote pressure switch, rubber flashlight mount, Fenix ARB-L21-5000U USB rechargeable 21700 Li-ion battery, USB Type-C charging cable, holster (length adjustable), ALF-18 battery holder, red light filter adapter, green light filter adapter, spare rubber switch boot, lanyard, spare O-ring, user manual
User manual
User manual (english)