Rechargeable battery Fenix ARB-L21-5000U 21700 USB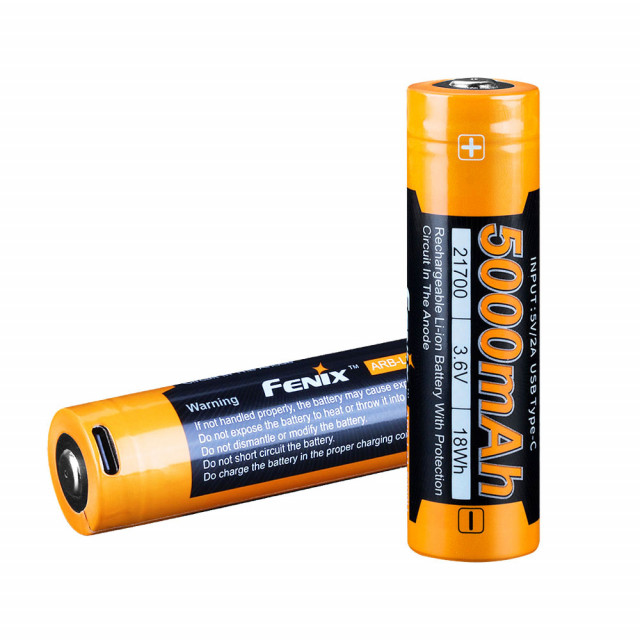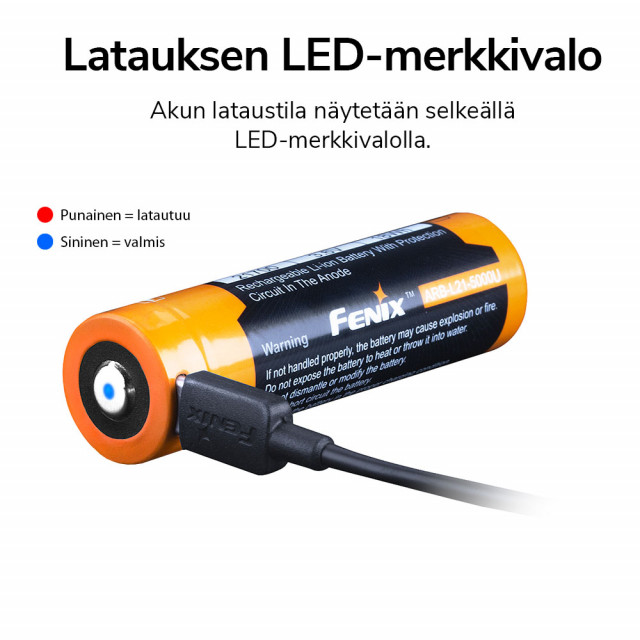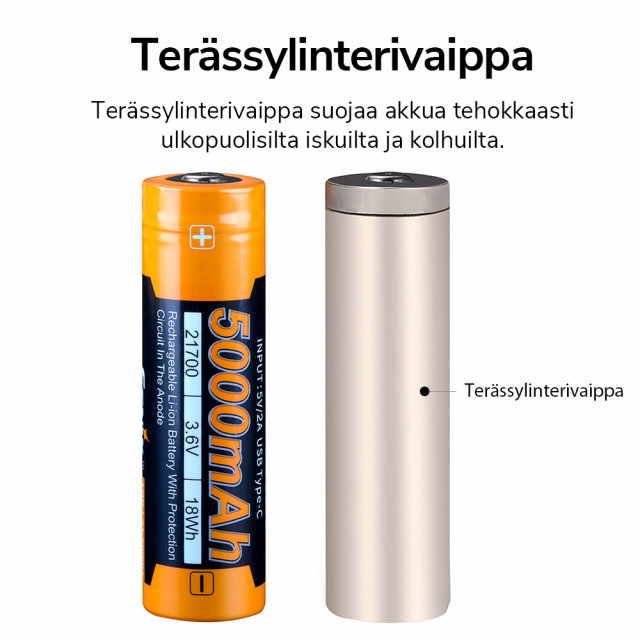 Rechargeable battery Fenix ARB-L21-5000U 21700 USB
Stock:

Good availablity

Product:

910715

Genuine High-Capacity Battery
ARB-L21-5000U 21700 USB type C rechargeable Li-ion battery, sufficient power, steady performance, the capacity of the 21700 battery is twice as powerful as the common 18650/2300mAh battery. ARB-L21-5000U has integrated fast type C charging port to recharge battery without external charger. ARB-L21-5000U is also compatible with external chargers (recommended chargers: Fenix ARB-D1 or Fenix ARB-D2 smart charger). Battery safety and good performance is secured by multiple protection circuits and steel shell riveting technology and pressure relief vents.
Product details
5000 mAh large capacity
USB type C integrated charging port
LED lights for charging status (red = charging, blue = ready)

Unique structural design for better impact-resistant
Built-in over charge, over discharge, short circuit and three sets of over-heat protection ensure the safety and good performance of the battery
Designed to retain up to 75% of its original capacity at 500 full charge and discharge cycles
Technical details
Features (batteries)
Category
Rechargeable battery
Type
Li-ion
Dimensions
21700
Nominal voltage
3,6 V
Capacity
5000 mAh
Charging current
Charge by its own USB port: 2A, charge by the charger: 1A (recommended), 5A maximum.
Discharge
8A (max)
Size
Ø21,5 x 76 mm
Weight
72,5 g
Warranty
12 months
Includes
1 pcs (USB type C charging cable not included)
Note
This product will only work in those models supporting 21700 batteries. Currently recommended for the HT18, PD36R, TK22 V2.0, and TK22 UE STRIKER. A USB-C charging cord is NOT included.