Fenix BC30 Bundle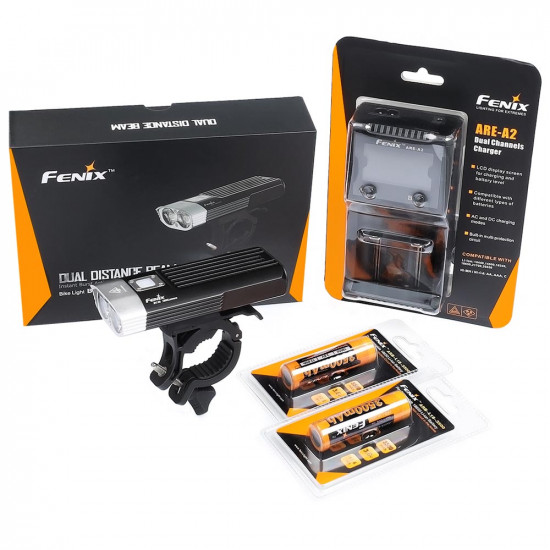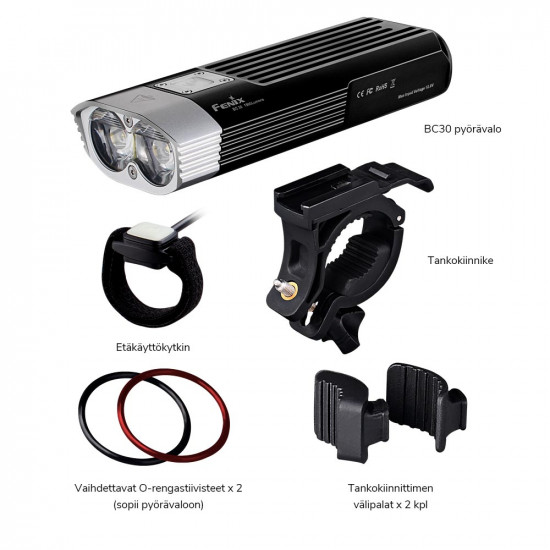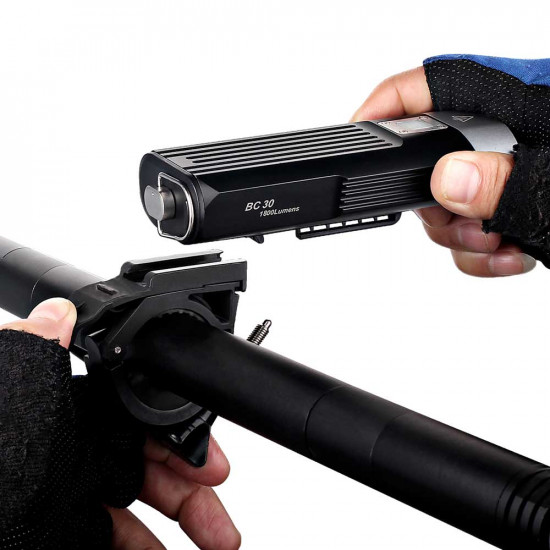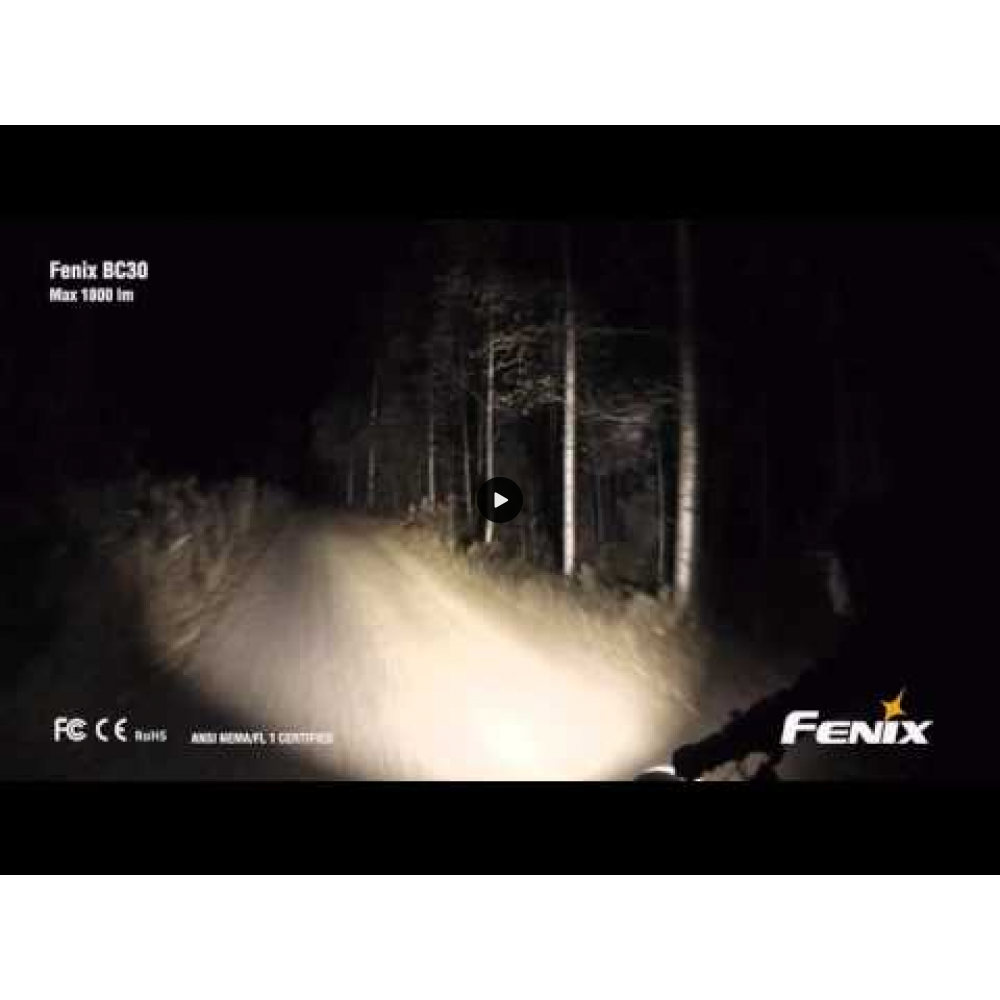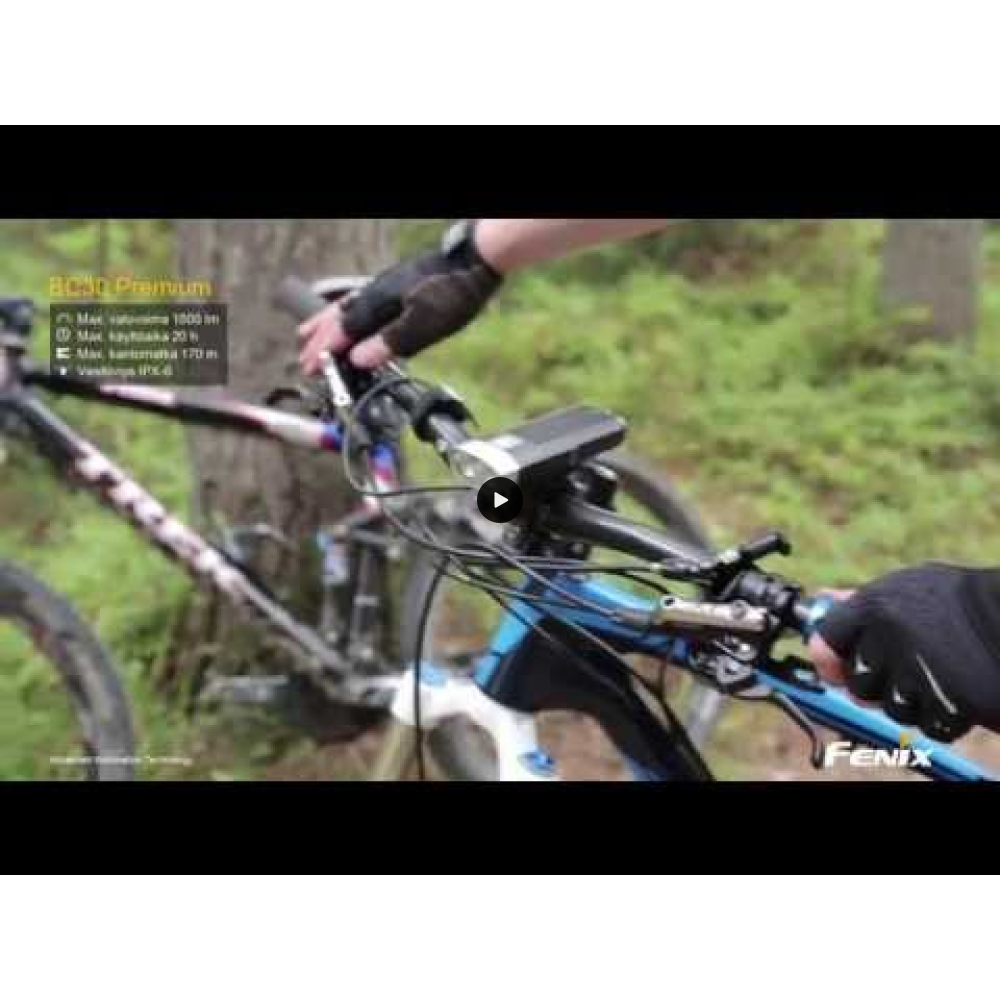 Fenix BC30 Bundle
Stock:

Good availablity

Product:

910598

Description
We have bundled our Fenix BC30 bicycle light with with our best batteries, the ARB-L18-3500mAh 18650 Li-ion rechargeable batteries and NEW Fenix ARE-A2 charger! Now you don't have to worry which batteries or other accessories are best suited to the BC30. We've taken the guesswork out AND you save money on the deal. The Fenix BC30 bike light puts self-contained 1800-lumen max output at the ready. Remote burst activation and the exclusive Dual Distance Beam System make the BC30 effective on road and trail up to 170 meters. Choose 18650 Li-ion rechargeable or CR123A batteries to power four brightness levels and a warning mode, all guarded by a rugged bar-mounted housing.
The BC30 features the exclusive Dual Distance Beam technology which gives you both close-in visibility and long-range illumination, ensuring your safety when you are mountain biking, touring, commuting, etc. Thanks to the efficient total-reflection lens design, Fenix BC30 brings a broad floodlight and a super beam throw reaching deep to 170 meters with anti-glare design!
The BC30 employs the Instant 1800 lumens Burst-mode with the remote pressure switch to answer the calls under complex road conditions or special situations. Whether the bike light is on or off, depress the remote switch button will activate the light in the highest level, returning it to the current brightness level once released.
Intelligent power display function detects the remaining power and turns low-power indicator from green to red to remind you of battery replacement. It also downshifts the light to a lower brightness levels to maintain illumination until all battery power if used.
Digitally regulated circuit - maintains constant brightness
Uses Total-reflection Lens Design with a wide beam angle without center black beam pattern
Utilizes two Cree XM-L2 T6 neutral white LEDs max 1800-lumen output
Excusive Dual Distance Beam -technology with anti-glare
4 brightness levels and one flashing mode
Instant burst activation with the remote pressure switch
Quick attach and detach handlebar mount sized for 22 mm - 35 mm handlebars
Easy, secure adjustment of the light's direction (30-degree horizontal, any vertical)
Batteries and chargers sold separately
Package includes: BC30 bike light x 1, Fenix ARB-L18-3500 18650 Li-ion rechargeable battery x 2, Fenix ARE-A2 smart charger x 1. Accessories: handlebar mount x 1, handlebar mount shims (one black and one thin) x 1, remote pressure switch x 1, spare O-rings (one black and one red) x 1, user manual
With Fenix's commitment to quality, the BC30 is IP68 rated dust and waterproof resistant. Tested and rated to ANSI/FL1 standards. The BC30 is backed by Fenix's 5 year warranty against defects in materials and workmanship.
Technical specification
Parameters (lamput)
Output (max)
1800 lumens
Runtime (max)
20 h
Beam distance (max)
170 meters
Impact resistance
1 meter
Water Resistance
IP66
Modes
5 pcs
Output Burst
1800 lm
Output Turbo
1200 lm / 1 h 50 min
Output High
500 lm / 5 h
Output Med
200 lm / 11 h
Output Low
100 lm / 20 h
Flashing Light
200 lm / 5 h
LED-type
Cree XM-L2 T6 (Neutral White)
Size
126,7 x 50 x 31,8 mm
Weight
161 g (excluding battery)
Batteries
2x18650/4xCR123A
Certificates
ANSI/NEMA FL-1, ROHS, CE
Warranty
5-years